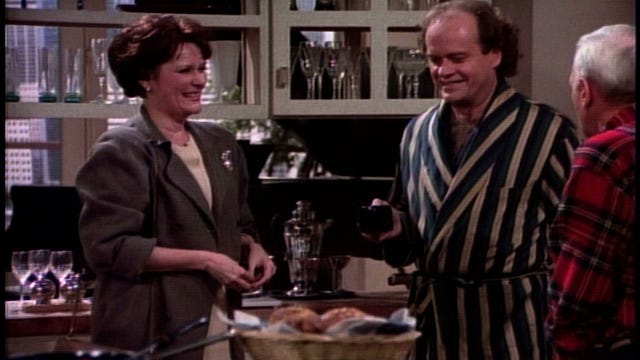 Your parents have had sex. Sorry to break it to you, but it's true. Of course, we all know that implicitly, but unless you're one of those people whose healthy honesty with their parents passes back through into unhealthiness, such knowledge is, if not repressed, at least a background characteristic of their role. In Guess Who's Coming to Breakfast? the sudden realisation that his father is a virile, sexual, desiring being is traumatic for Frasier. Not traumatic in a serious way, perhaps, but shocking, disruptive. It's a disruptive realisation because it's sprung upon him when Martin's date, Elaine, appears in the kitchen one morning, a sexual timebomb in the middle of the domestic breakfast. 
Frasier can't handle it, strung between his need to appear mature, and his attempt to reimagine his father in real time as a desiring being, and a penis haver, where he had already undertaken the Oedipal imperative to overthrow the father figure. His lines get crossed, and from his mouth he ejaculates a series of accidental sexual innuendos towards Elaine, each more grotesque but more comic than the last. Daphne has made the family a Full English breakfast, a high-point of English national cuisine, and the sticky buns (what?) and bangers provide the rocketfuel for Frasier's logorrhea and the focus for his sexual confusion.
The English play a huge role in Frasier as a kind of silent comedic partner, an unspoken foil against which to play all sorts of contrasts. Unusually for US comedy, they're not represented entirely as an upper-class, intellectual, or homosexual nation. Sure, both Frasier and Niles describe themselves as 'anglophiles' and play up their connection to certain class (and queer) signifiers from the English elite — not least the Oxbridge university system, and Shakespeare — but the presence of Daphne allows an unusual, though no less fucked up, representation of England as a place of extreme, almost Dickensian austerity and hard times. 
Daphne might be the closest Frasier gets to the kooky, idiosyncratic character favoured by so many US sitcoms, the Phoebe or Kramer whose antics are equal parts entertaining and astonishing, but already early in the first season she's more nuanced than that. She comes from a working-class family from Manchester, a large family who maintain a seemingly happy homelife despite the severe deprivations she suffered. The culture clash between her upbringing in an England I can only describe as "Merry Olde", seems to land harder with the Cranes than Daphne; she frequently finds herself heading down memory lane, describing a 1930s Northern England of steamed puddings and dockworkers, brutal street violence and an ever-present familial queerness in the shape of her brother Billy. 
What England is this? An uncanny England, in a way —a nonplace, a fiction of the imagination or of historical memory half-remembered. It's an England forged from both English and American fictions, a representation that could be pulled from a L.S Lowry painting, in its vision of a sort of noble, hard-pressed people coughing up lungs and supping down ale with their liver and onions. I guess you could see it as an extension of the American vision of England as a place of uniquely bad cuisine, but let's not get me started on that one. 
Instead, I prefer to think of it as part of Frasier's important representation of the past as a golden age of simple honesty, but also of a brutality that is somehow morally clarifying. The childhood Daphne lived is not only tough, but seemingly filled with abuse and potentially even incest. Yet she emerges from it possessing an openness and clarity so powerful that finds itself expressed as clairvoyancy. The abuse she survived, so evident to the American Cranes, seems little more than a funny anecdote to her.
In Frasier's vision of class you're beginning to see the first manifestations of a post-Reagan public understanding of class, where weak liberalism is associated with having lost touch with something fundamentally truthful. Perhaps there's the first iterations here of a Trumpian politics, where the snobbery of the Crane twins represents a ruling class who have not lost touch with the lived realities of the working-class, represented here by Daphne and (falsely, in my opinion) by Martin, but also where their pretension is not merely snobbish, but dishonest, and attempt to hoodwink and mock the working-class, to pull the wool over their eyes with their fancy words.
England represents both of these positions in Frasier. England is full of either twits and snobs, or honest drunken brawlers. As a child of the second of these categories, Daphne makes a natural ally to Martin, who is the earthy sensible national everyman for America, devoid of any European pretensions. Cars, beers, or culture —the US production line, steel and General Motors is Martin's heritage. The fact that Daphne has emerged not just unscathed but strengthened by her seemingly Depression-era childhood is indicative of a world-view that underpins a lot of the moral lessons of Frasier: that hardship is character-building. Nonetheless, this being Frasier, the schmaltzy moral lessons are always uncut by irony. Furious that Frasier has spread news of his newfound sex life on his show, Martin reiterates his old-fashioned sexual morals: "For your information, people of our generation think sex is a private thing, and I still think that's a pretty healthy way of looking at it. Sex is something between you, and the person you're doing it to."
Check out my non-Frasier writing at utopian drivel.