1.15 Can't Tell a Crook by His Cover
Don't you dare call me irrational, you know that makes me crazy!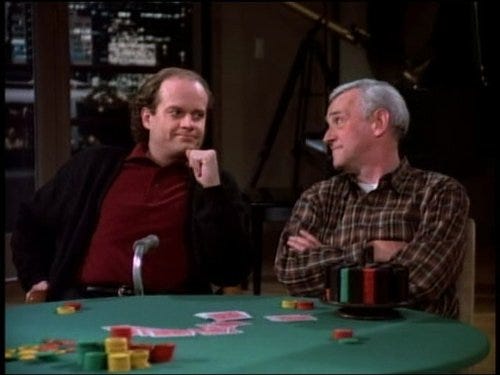 I guess the thing that makes Frasier work is that there's enough vulnerability in both Frasier and Niles that makes the pomposity understandable, and the popping of the pomposity sympathy-inducing. You never truly believe them to be monsters, but when they're in the height of self-importance, well, they just might be. In Can't Judge a Crook by his Cover, you get the worst of it, and when he it pops, he knows. Prideful, patronising, bigoted and judgmental, Frasier unrolls all the worst aspects of his personality while engaging in a bet with Martin.
I always believe people's stories of woe and misfortune. I dunno, it just makes sense to me that calamity waits around every corner. So does Roz, a woman normally depicted as worldly, even streetwise. So it surprises her when she's "conned" by a man in the street who tells her he's an Australian tourist who has lost his wallet, and needs ten bucks to get to the Australian Consulate. I've fallen for the same trick before, but Frasier claims he'd never be such a mark. I wonder if anyone does really "fall" for it, or whether, on some level, we know but don't care, or rather, know and do care. I wonder whether those who give directly to others who need a bit of cash are, somehow, less gullible about the nature of society than those who clutch their wallet in fear of every interaction being a potential scam. Humans are not an obstacle course of potential deception, and deception like this is a meager fraud in reality.
Frasier is the sort of man who would write a large check to some frauds, but regard a request for ten bucks as an attempt on his sense of self. And he prides himself on his nous, his ability to make that distinction. That's how he ends up betting with Martin that he could spot a criminal in a group of law-abiding citizens.
The bet is made, and the game is set — at a poker game at their house that evening, Martin will invite 3 guests, two lawful Seattleites and a convicted felon, and Frasier will have to spot the crook from their mannerism, psychological profile and behaviours alone. We've talked about class before, of course, but only in the framework of Frasier and Martin's relationship, and the ability to shift between classes, or to transcend them, through all manner of cultural signifiers. What's clear, however, and what marks Frasier out as a true bourgeois, is his almost Victorian understanding of a criminal as part of another class altogether: indeed, maybe even a different taxonomy of human all together. When the poker players arrive, he applies all manner of psychological analyses to determine who belongs to the criminal class per se. Not quite (yet) a phrenologist himself, he nonetheless reflects psychiatry's long relationship with both phrenology and law enforcement, taking a bourgeois position that crime is the result of individual human physical and psychological characteristics and not situational, born of poverty or relating entirely to the construction of laws in society. No, a criminal is a type, and he will, almost literally, sniff them out, as he tells Martin and Roz: "What truffles are to pigs so are these charlatans and pettifoggers to my mental acuity." 
Martin takes a different view of pettifoggers. Martin, as a cop, doesn't see criminality as an innate behaviour, with criminals as a class of their own, but as a universal and potentially exponential human instinct. The cop sees criminality lurking within everyone. They are the thin blue line between order and chaos, and chaos will bloom amongst a populace not forced to order by the ranks of blue. There can never be "too many" cops for a cop, never be too much money, never be too many laws. Cops know anyone could be a criminal, given the correct circumstances, and it's their role to expand further and further into society to prevent such circumstances occurring. It's no surprise, then, that Martin thinks Frasier couldn't judge who is the criminal: they could all be criminals to Martin. 
Martin wins the bet, of course; Frasier's booksmarts aren't what's required. The wager is completed. The family's cop and bourgeois mindsets were limited to a parlour game, but when Daphne agrees to a date with the ex-con it explodes into a serious threat. Niles' liberal, reformist tendencies dissolve when he hears, exclaiming "Frasier I hope you're just yanking my giggle chain". And Frasier's reformist tendencies dissolve when he finds out the date is in a rough bar. They head down, preposterously, to save her. Daphne's working-class background means that, despite her characterisation as away with the fairies, she's comfortable and attuned to the idea that the lower classes are not a writhing mire of potential banditry. At the bar, she hustles the pool players, but, eventually losing a final wager, she, and the boys, take the money, bail on the bet, and do a runner. The episode ends with a wager and a defraud, this time committed by the Crane Gang. In the end, it turns out, we could all be criminals: given the right circumstances.
Check out my non-Frasier writing at utopian drivel.