1.14 Can't Buy Me Love
I've passed kidney stones with more accuracy!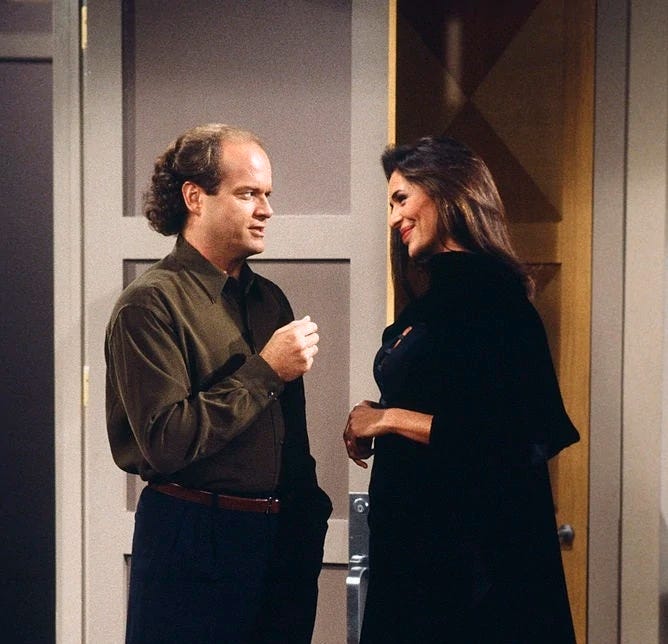 In episode 14, Frasier is a horny man, driven only by absolutes. He wanders through the world a desolate limbic system, a one-man RPG, with only one vision: the ego, the eye of God. 
Everything encountered is simply a manifestation of the simulation, himself the receiver and interpreter, and constructs, naively, a world that makes sense to the notions he brings to the table. That is, women come in two flavours, Madonna and whore.
His story begins with that wish fulfilment strategy of all cishetero deviance from the prison of which they are both ward and warder —charity. From gender transgression to intra-gender body contact, there are only two justifications that wipe clean the stain of deviance "all just a laugh" and "all just a good cause". 
Sodomy is sodomy because it is neither.
At the bachelors auction, the women are the fear of every one of his desires consummated. They are his libidinal energy reflected back to him. They are ravenous, murderous in their lust for sex and flesh. They are Frasier's fear of wanting too much. 
He is purchased or rented by an unknown woman, and is shocked to find that the attraction is mutual. She is a model — throughout the seasons, the professional model is symbolic for Frasier of the ultimate in sexual desire. Perhaps unsurprising that a man whose profession is the analysis of desire would desire someone whose sexual desirability is converted into a professional trait.
Last thing I remember was someone shouting out 'Shake your moneymaker!
Of course Frasier, as a cartoonish Freudian, will subscribe the Madonna-Whore complex, Freud's conception that in having sex with a woman, a man feels he has degraded her, and a degraded woman is unlovable. I would wish to distance myself from this narrative, but I've met too many men to pretend it's not how some feel.
"Where such men love they have no desire and where they desire they cannot love," said Freud, except here, is it not Frasier who is the 'whore'? Consumed with wanting, he plays the Madonna by taking in the model's daughter when the model is called away for a last minute assignment. 
The girl, ornery at first, eventually confirms Frasier's worst fears when she tells him the truth about his cruel, neglectful mother. She is a whore! No Madonna, she abandons her child, and is vain, conceited, and fun-loving.
The relief for Frasier is almost palpable. One can't help but feel that, despite being a psychiatrist, Frasier is driven by the same urgent need to sabotage oneself as the rest of us. In resisting the manipulative attempts of this siren to fuck him, he shows himself stronger than the sexual urges that threaten to overwhelm him.
It goes without saying that children are liars.
As is Frasier. But he wanted to believe. His reading of the motivations of women, of their character, is a simple one, a class-inflected bourgeois morality recognisable even to and in Freud. Perhaps his desire to turn the mother into a cruel woman reflects his feeling that, were she a bitch, she would be even more sexually potent. 
But his self-sabotage is surely recognisable to many of us. It is, fundamentally, a refusal of Frasier to recognise his own desirability as a fully-rounded, intellectual and sexually attractive individual. Kind, hot, and smart exists as a combination in a single person, and what could be more terrifying, more debilitating to realise that kind, hot and smart wants nothing more than you, wretched homunculous that you are? We have fumbled through the world constructing its meaning as only we can perceive. What could be more destabilising than overturning the world you see?
Check out my non-Frasier writing at utopian drivel.